Heritage Language Assessment Research Brief
By Jamie Morgan (Center for Applied Linguistics) & Valentina Michelotti (AELRC)
What are heritage language educators' perceptions of their students and their students' assessment needs? What are the current assessment practices and challenges? This brief presents results of a survey on heritage language assessment.
This research brief can also be viewed and downloaded as a pdf here (new window).
We'd love to hear from you! Feedback on this research brief is collected via SurveyMonkey (new window).
---
Introduction
The Heritage Language Assessment Module is a component of the Understanding Assessment tutorial designed to target the needs of educators working with heritage language learners. This online resource provides information about assessment for educators working in K-12 heritage language classes, community-based heritage language schools, and university-level heritage language courses.
As the number of heritage language learners in the U.S. continues to grow, educators need to understand the unique linguistic and cultural backgrounds that these students bring to the language classroom in order to serve these students well. While extensive research has been conducted on the characteristics of heritage learners, few resources are available for heritage language assessment (Ilieva & Clark-Careca, 2016; Llosa, 2014; Magaña, 2015).
To create the Heritage Language Assessment Module, we conducted a literature review, interviews with eight heritage language educators, and an online survey of 215 heritage language educators working with over 40 heritage languages. This research brief presents results of the survey, which was designed to help us better understand assessment practices and needs within this community.
Who is a Heritage Language Learner (HLL)?
There are many ways to define an HLL. Valdés (2000) defines a HLL as "a student who is raised in a home where a non-English language is spoken, who speaks or merely understands the heritage language and who is, to some degree, bilingual in English and the heritage language."
For this survey, we defined a HLL broadly as someone with a cultural or familial relationships with a language.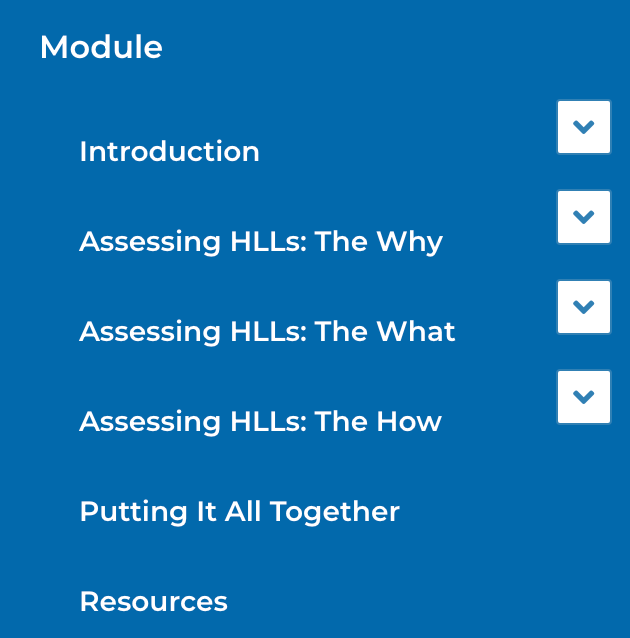 ---
Survey Excerpt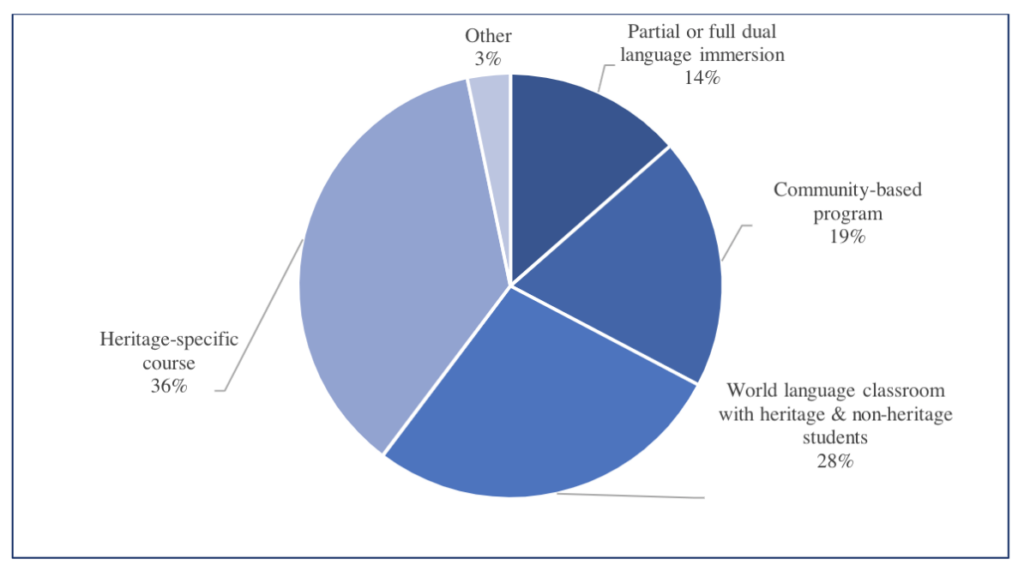 ---
Findings
The survey consisted of a total of 28 questions and was administered via SurveyMonkey. The summary of key results from the 215 total survey respondents are presented below. For more information on survey respondent demographics, visit the pdf link above for the complete research brief.
KNOWLEDGE
Most respondents reported having a clear understanding of the definition of a HLL and the ways that HLLs differ from other language learners.
Nearly one third of respondents indicated that they do not feel confident addressing the assessment needs of HLLs.
PRACTICES
Most respondents reported using placement tests, formative assessment, and summative assessments with HLLs.
Most respondents indicated they need to develop and/or modify assessments for HLLs, and only one quarter of respondents reported directly using existing assessments with HLLs.
CHALLENGES & NEEDS
The most frequently mentioned challenge in assessing HLLs is learner diversity.
Most respondents reported that information about the following would be extremely helpful: the characteristics and needs of HLLs, the basic concepts of assessment, and test development or selection.
---
Implications for resource development
Heritage language educators would benefit from resources and training that cover the following topics:

Detailed information about characteristics of HLLs, including needs, factors in language development, teaching contexts, and implications for assessment.
Language-specific guidelines and assessment materials.
Information on the basic concepts of assessment.
How to use heritage-specific assessment practices to support and advocate for students.
Best practices for using placement tests, formative assessment, and summative assessment with HLLs, as well as examples of effective assessment tasks.
Guidance on how to conduct a needs analysis, modify existing assessments, and develop performance-based assessment tasks.
---
The Heritage Language Assessment Module
The Center for Applied Linguistics applied survey findings to develop the Heritage Language Assessment Module as a resource that reflects the concerns, challenges, and needs of heritage language educators. It includes an overview of the linguistic and cultural profiles of heritage language learners, the special considerations that must be made when working with this population, and the resulting implications for assessment. The Heritage Language Assessment Module was developed by researchers at the Center for Applied Linguistics (CAL) as a project of the Assessment & Evaluation Language Resource Center (AELRC). The AELRC is a Title VI Language Resource Center.
---
References
Ilieva, G. N. & Clark-Gareca, B. (2016). Heritage language learner assessment: Toward proficiency standards. In M. Fairclough & S.M. Beaudrie (Eds.), Innovative Strategies for Heritage Language Teaching: A Practical Guide for the Classroom (pp. 214-237). Washington, DC: Georgetown University Press.
Llosa, L. (2013). Assessing heritage language learners. In A.J. Kunnan (Ed.), The Companion to Language Assessment (pp. 440-453). Hoboken, NJ: Wiley-Blackwell.
Magaña, D. (2015). From pedagogy to communities: Issues within and beyond the Spanish heritage language classroom. Studies in Hispanic and Lusophone Linguistics, 8(2), 375-388.
Valdés, G. (2000). Teaching heritage languages: An introduction for Slavic language-teaching professionals. In O. Kagan & B. Rifkin (Eds.), Learning and teaching of Slavic languages and cultures: Toward the 21st century, 375-403. Bloomington, IN: Slavica.
---
Copyright 2022 AELRC All Rights Reserved