Webinars
The AELRC frequently hosts webinars to provide language educators with accessible and applicable assessment and program evaluation information. Check this page for information on upcoming webinars and recordings of past webinars.
Upcoming Webinars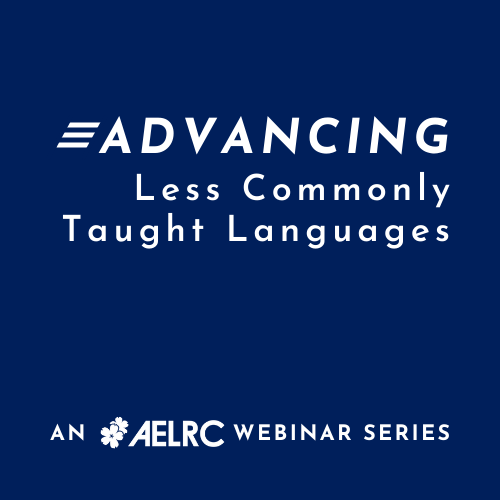 The teaching and learning of Less Commonly Taught Languages (LCTLs) is an integral part of the move towards a more multicultural and diverse society, one equipped to meet the critical needs of the 21st century. Yet, assessment and program evaluation opportunities for LCTL programs remain limited today, restricting effective expansion and innovative practices. The AELRC will be hosting a synchronous webinar series titled "Advancing LCTLs: Assessment and Evaluation for Cross-cultural Communication" to address the gap in LCTL evaluation opportunities and open up a dialogue about best assessment practices. Each 30-minute episode of this series aims to center the needs of underserved programs and educators, with topics ranging from C-test uses, the Intercultural Pragmatic Interactional Competence (IPIC) Assessment, and more. Visit this page for information on dates and registration opportunities.
---
Past Webinars
Past recorded webinars are posted here as part of the AELRC's resource library to provide LCTL educators and underserved programs with engaging assessment and program evaluation information.
AELRC/CAL Webinar: Rubrics in World Language Classrooms
Presented by Leslie Fink and Rachel Myers
---
AELRC/CAL Webinar: Oral Proficiency Assessment
Presented by Francesca Di Silvio, Jamie Morgan, and Jenna Bushton
---
AELRC/CAL Webinar: World Language Assessment – Adapting to a Virtual Environment
Presented by Dr. Meg Malone & Dr. Meg Montee
As language classrooms transition to virtual environments, educators need practical and effective assessment tools to understand students' language development. This presentation discussed formative assessment practices that align with online instruction and that provide useful information for teachers and students. The webinar focused on making language assessment both meaningful and practical. The presentation is followed by responses to questions submitted in advance.